My pet is battling to pass a stool
Bowel movements - a serious situation
Ever notice your dog or cat in a hunched-up position either in the garden or in their sandbox and just not being able to "come right" with passing whatever it is they want to pass? In cats and female dogs, the posture of the animal when passing stool and passing urine is the same. It is therefore important to try and establish whether they are battling to pass a stool or alternatively if they are struggling to urinate. Both conditions may require veterinary attention and if the animal repeatedly hunches and strains with no apparent relief, it may be a sign that they need to see the vet.
Celebrating good times with your pets
What not to feed your pets during the festive season
South Africans love to celebrate with food and drink as do many other cultures. Being part of the family, we like to include our pets in our celebrations and with the best of intentions may harm them if we feed them the same things we enjoy eating and drinking when we celebrate. This article highlight some of the food and drinks we as humans enjoy, which may be harmful and even deadly for our pets.
I found a lump on my animal's skin. Is it cancer?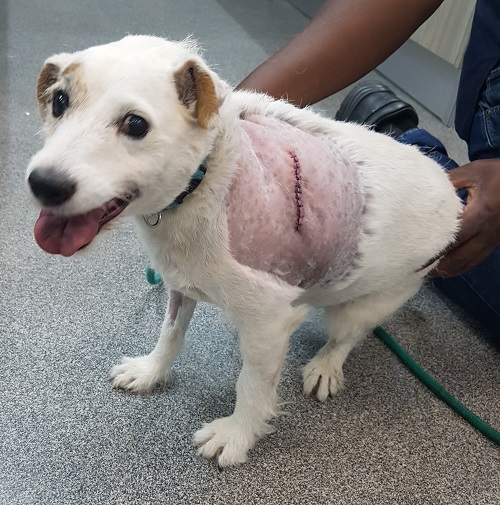 Lumps and Bumps in your Pet
Finding a lump or a bump in your pet which you have never noticed before, can cause serious worry for pet owners. This article will highlight what to watch out for when to take your pet to the vet and the process veterinarians follow when approaching any lump found on a pet.
Firstly, it is always important to remember that you can never tell how serious a mass on your pet is by simply feeling it and judging by its size. Dynamite can often come in small packages and some of the most aggressive skin cancers may present as a simple small raised area on the skin. Generally, lumps on a cat tend to be more dangerous and they are not something to be ignored. All growths have to start small but may grow very rapidly. Lumps come in all shapes and sizes and for that reason, it is always best to get any lump on the skin or underneath the skin checked by the veterinarian as soon as you discover it. This will provide peace of mind to you as an owner if it is simply a dermal cyst or a small wart-like growth, both of which will not cause any major health issues for your pet. Alternatively, if it is something more aggressive and dangerous, it is always better to start treatment as soon as possible. If it is determined to be a bad type of growth (malignant), the sooner it is diagnosed the better the prognosis for both removing it surgically or starting any other form of treatment.
Can I, or my dogs or cats contract bird flu from my pet birds?
Avian Influenza South Africa 2017
The information provided here is not an official statement but is meant to provide some general information on bird flu because of the break out of bird flu in September 2017 in South Africa.
Bird flu or Avian Influenza (AI) is a family of influenza viruses that mainly affect birds. They are named according to two proteins on the surface of the virus (Haemagglutinin and Neuraminidase). The only ones of commercial concern are the H1, H5 and H7 types. There are dangerous (HP or highly pathogenic) and LP (low pathogen) strains. So when you see someone talking about HPAI H5N8 that means the dangerous type of H5N8 avian influenza.
I love the mean look a dog with cropped ears have
Ear cropping in dogs - Why vets do not do it anymore
Ear cropping in dogs was a procedure done by vets in the previous century whenever dog owners requested it. Cropping is the removal of part, or all, of the outer ear, or the pinnae (externally visible flap) of the ear of an animal. Cropping the ears also involved taping the ears up after the surgery, to make the ears pointy.
Why was ear cropping done in the past?
Ear cropping was historically done on working dogs to reduce the risk of medical conditions like infections or haematoma. An othaematoma is when a small blood vessel in the ear bursts when dogs shake their heads (with ears flapping from side to side against the top and bottom of the dog's head) and which causes the ear to "balloon" out with a blood-filled pocket in the ear. Although these initial reasons for doing cropping were sound, it turned into a cosmetic procedure over time and became more about "the looks" of the animal, rather than anything else. The surgical procedure of ear cropping was no longer done for functional reasons and was purely done for aesthetic reasons – "to give a dog that mean look".
My cat is damaging my furniture by scratching it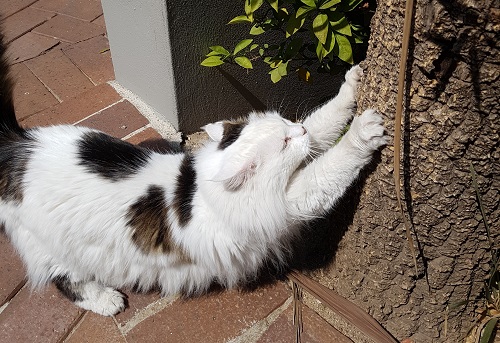 Should I declaw my cat?
Many people think that declawing a cat means that you cut the nails really, really short so that they do not have the capacity to grow again. Nothing could be further from the truth. When a cat is declawed, the greater part of the last digit of its toe is amputated. Cats' nails are attached to the last digit on their feet and one cannot effectively remove the nail, without also removing the greater part of the digit itself. There are muscles and tendons attaching to the bone of the last digit and some of the bone should be left intact for the foot to function normally after the procedure. If one was to do a similar procedure in a human, it will be like removing the tip of your finger just in front of the first knuckle.
My Boerboel with its long tail really looks strange. I much prefer a Boerboel with a short tail.
Tail Docking in dogs - Why we as vets do not routinely do it anymore
To start off with let's define what we are talking about when we are talking about tail docking in dogs.
Tail docking from a veterinary perspective refers to a surgical procedure done to puppies between the ages of 3 to 5 days old, where a portion or partial length of the tail is amputated or cut off with a scalpel or surgical scissors, bleeding is stopped by cauterisation or tying off of bleeding blood vessels with absorbable suture material, and placing a suture or sutures in the skin to close off the wound.
What is the brownish yellow discolouration on my pet's teeth?
Discoloured teeth in dogs and cats
Just like humans, dogs and cats have two different sets of teeth. The first set, known as the deciduous teeth or "baby teeth", erupt between three to six weeks of age. The permanent or "adult" teeth start erupting around three months of age and are all present around six months of age.

The teeth are also very similar in structure to human teeth, with the crown that sits above the gum line and the root which is located below the gum line. All teeth are made up of an outer protective coating of enamel. Enamel is a very hard structure that protects the more sensitive dentin. The dentin sits over the even more sensitive pulp cavity which contains nerves and bloods vessels, which nourish the tooth.
My dog makes a strange snorting sound with funny gagging movements almost like something is stuck in his/her throat.
Reverse Sneezing in dogs
What is reverse sneeze?
Reverse sneezing is repetitive, forceful inspiratory (breathing in) efforts generally caused by irritation of the lining of the naso-pharynx or area at the back of the mouth and nose where these two openings join into one. Unlike a normal sneeze where air is forcefully pushed out the nose to clear the irritation, a reverse sneeze involves air being pulled forcefully and rapidly into the nose. This is commonly seen in small and toy breeds breeds with long thin nasal passages like Miniature Pinchers, Toy Poms, Chihuahuas, Malteses, Dachshunds, Poodles, Yorkshire Terriers and other Terriers, etc., and brachycephalic (short nose) breeds like Pugs, Boston Terriers, Shih Tsus, Pekingeses, etc.
I found a loose stool with blood and what looks like jelly on the kitchen floor this morning - what do I do?
Acute and Chronic colitis in dogs and cats
What is Acute Colitis?
Acute colitis is a common condition in pets and is characterised by a sudden onset colonic inflammation with a diarrhoea that may contain mucous and/or fresh blood.
Clinical signs
The most common symptoms are straining when defecating, mucous (the jelly you noticed) and/or blood in the stool, and increased frequency of defecation. Systemic signs of illness are generally absent and most animals are still alert, active and have normal appetites in spite of having colitis.